March 4, 2017: New Pop Album My Bad Imagination, Single Stay in the Dark
The Band Perry have officially gone pop. At the beginning of February, TBP announced the release of their first pop album, My Bad Imagination. No release date has been announced yet. It is expected sometime in 2017.
TBP have also released their new pop single, Stay in the Dark. The song was written by Kimberly, Reid, Neil, Jenna Andrews, and Benny Cassette. You can buy it on iTunes or Amazon.
The band posted on social media on February 2nd:
July 27, 2016: New Single Comeback Kid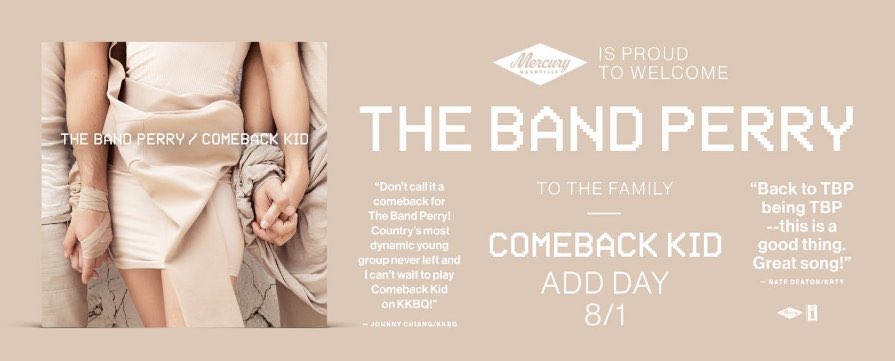 It is finally here! The Band Perry are releasing a new single, called Comeback Kid, on August 1st. This will be the first single released by The Band Perry's new record company, UMG Nashville.
Not much information is out there about the song, but it appears that Jon Bellion may have co-wrote it and Benny Cassette was involved with production. It will have been almost a year since the band has released a new single, the last one was Live Forever released August 14th, 2015.
In the meantime, get prepared for #COMEBACKDAY and be sure to check out TBP's various social media accounts for more previews of what looks to be the music video.
June 24, 2016: Heart + Beat "Shelved" For Now
According to Sounds Like Nashville, The Band Perry's planned third album, Heart + Beat, has been "shelved for the time being". But have no fear! New music is just around the corner, according to Kimberly: "We are so excited to get our new single on country radio, its right around the corner". The Band Perry are going through a transition period having just signed a joint deal with Interscope Records and Universal Music Group. The deal will allow TBP to release music on country and pop radio.
The Band Perry has been in and out of the studio working on new music. Benny Cassette (Stay in the Dark co-writer), tweeted in reply to Neil "@theneilperry nothin, been workin on your record". It seems likely this new project will be a combination of brand new songs and songs meant for the original third record. Still no word on a released date or title for the album or the single.
June 13, 2016: New Music! (Kind Of...)
New Music from The Henningsens, Jon Bellion
New music alert! The Henningsens, a group that TBP wrote with extensively on their debut album and Pioneer, have released a new album titled World's On Fire. Be sure to support this amazingly talented group and buy the album on iTunes or in their store.
A new song, The Good In Me, which Kimberly co-wrote with Jon Bellion and Mark Williams (also co-writers of Best One Yet and Put Me in the Game) has been released. It is on Jon Bellion's new album, The Human Condition, labeled under the genres hip hop, alternative R & B, and pop rock. You can find the song on iTunes, Spotify and (most likely temporarily on) YouTube. The song is dark – it is about cheating: "You know that he trusts you / and I know that he loves you / but somehow you convince me again", "My foundation rumbles and all my morals crumble", and "One temptation sparked this / Now I feel the darkness". The chorus is "Your heart's a vine that I've been trying to climb / You're making a ruin of me / Try to survive keep my spirit alive / But like a knife in the woods you hunt down the good in me". This song is different than anything we have heard before from Kimberly's previous songwriting repertoire.
June 12, 2016: Wing-A-Palooza.
Happy 2nd Wedding Anniversary to KP & JP!
The Band Perry are a part of Pizza Hutt's 2016 Wing-A-Palooza. Military families stationed in the Pacific have a chance to win a concert with The Band Perry! 14 Military Installations in the Pacific will face off in an epic battle for an exclusive, unforgettable show with The Band Perry on September 23rd, 2016. For details visit WingAPalooza.us. Be sure to check out the promo video below - it is funny! A very special thanks to The Band Perry Daily for finding this hilarious video.
May 12, 2016: The Band Perry sign with Interscope Records
The Band Perry have a new label home, Interscope Records. The Santa Monica based label was founded in 1989 by Jimmy Iovine and Ted Field. The label is home to many popular artists including Carly Rae Jespen, Eminem, Imagine Dragons, Lady Gaga, Madonna, Maroon 5, One Republic, Selena Gomez, and country artists Scotty McCreery and Lauren Alaina.
According to Billboard, The Band Perry are transitioning to pop with this deal. They will still be releasing select singles to the country formant to be handled by the Interscope sister label UMG Nashville. TBP's third album will include songs from their pre Big Machine split as well as new material.
May 11, 2016: You Me Us Tour Preview
Enjoy another You Me Us Tour preview video! If have footage (photos or videos) from a previous show please email me so I can make more videos.
April 29, 2016: Live Forever Official Team USA Song
It was announced on the Today Show that Live Forever is the official song for Team USA at the 2016 Olympic Games in Rio. On the show, Kimberly Perry said "Live Forever is really about those moments that make you feel like you're going to live forever, and that really is the spirit of the Olympics. And we're just really honored to bring that song to these guys." The Band Perry will be down in Rio this summer as honorary Team USA members. A new version of the Live Forever music video has been released featuring Olympic athletes.
April 4, 2016: ACM Weekend Wrap Up
Kimberly will be on E! Fashion Police tonight! She is a guest for the #iHeartAwards special. Tune in at 8est to support KP.
The Band Perry had a busy ACM weekend. On Saturday, TBP made the switch from interviewee to interviewer, asking questions for CBS radio. They interviewed Carrie Underwood, Tim McGraw, Sam Hunt, and more! You can check out all their interviews on our YouTube Playlist.
Neil and Reid took over People's twitter with #PerrysforPeople ACM prep. Go behind the scenes & check out their Twitter Story.
On the Red Carpet, Kimberly played a duo role both walking and co-hosting E! News Red Carpet interviews. She even interviewed her brothers. Looks like Kimberly spilled the beans on her brother's date! Watch the video below!
April 3, 2016: 2016 ACM Awards
Kimberly Perry to co-host E! News ACM Awards Red Carpet
The ACM Awards are today! Kimberly Perry will be co-hosting E! News' red carpet coverage. The coverage will air tomorrow, (4/4) at 7/6c on E! News.
March 26, 2016: You Me Us 2016 Tour
The Band Perry have announced a new tour - the You Me Us 2016 tour. TBP posted on social media "HEY U GUYS! We're thrilled to announce a special series of tour dates in 2016, called "YOU ME US 2016." At these shows, we'll chronologically perform singles & songs from our first two albums, talk about the creation / writing of the music, and chat about whatever else pops into our heads! We'll also perform some brand-new songs that represent the musical future of TBP. YES, new songs! Several YOU ME US 2016 dates already on sale at TheBandPerry.com, MORE DATES TO COME!"
Back in February, The Band Perry played a show in Portland with the same format. It wasn't a typical concert – it was as if they were friends in your living room playing music, laughing, and telling stories. If you have the opportunity to go I would highly recommend such a unique experience. Tour dates can be found out TBP's website.
I made a short preview video using clips I took to help promote the tour – check it out! I will be posting a longer version soon so stay tuned.
March 25, 2016: In the Studio Working with the Henningsens!
The Band Perry are back in the studio! This time, it appears, to the delight of fans, they are teaming up with The Henningsens. The Henningsens, also a family band, wrote The Band Perry's hits You Lie and All Your Life as well as co-wrote Independence, Pioneer, and I'm a Keeper to name a few with the Perrys. Reid posted a video of Aaron on his Instagram confirming the two groups are working together again.
Welcome to The Band Perry Central
Your #1 source for news, photos, & everything else about the family band, The Band Perry. This is just a fan site for TBP, not the official website. If you have any suggestions for the site, news tips, or photos of TBP, feel free to please
contact us
.
Upcoming Events
5/13/16: Sandia Casino, Albuquerque, NM
5/14/16: Taste Addison, Addison, TX
5/26/16: Gears and Guitars Fest! Winston-Salem, NC
5/28/16: 600 Festival, Uptown Charlotte, NC
6/4/16: Country Summer Festival, Santa Rosa, CA
6/5/16: Cactus Pete's Casino #YOUMEUS2016, Jackpot, NV
6/10/16: Beau Rivage Theatre, Biloxi, MS

Polls
New Album: Heart + Beat
The Band Perry will be releasing their third album, Heart + Beat in the upcoming year. Since August I have been keeping track of all the information I could find about it. Find potential songs, producers, collaborators and everything else you could possibly need to know about Heart + Beat.
Latest Single: Live Forever
Charts:
#27 Country Airplay, #32 Adult Pop
Released:
August 14th, 2015
Album:
Heart + Beat
Genre:
Country Pop, Pop Rock
Length:
3:52
Writers:
Kimberly Perry, Reid Perry, Neil Perry, Jenna Andrews, Nadir Khayat, Jakke Erixson, and Karl-Ola Kjellhol
Producers:
Dann Huff and RedOne
Buy the new single
iTunes
,
XBox Music
, or
Amazon
.
Albums
Official TBP Websites
Chat Box
Affiliates
Site Stats
Advertisments